BB Wins Again! (2011)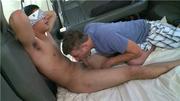 Starring:
Alexander Greene, Tony Newport
Categories:
Amateur, Anal, Blowjob, Cumshot, Handjob, Hardcore, White
BB is on the mother-fucking hunt once again! This time we found a sucker for love wandering the auto-parts store parking lot. He was totally hot and perfect for our Ba1t Bus. The sexy Alexis Faux convinced him that today was his lucky day. Alexander thought he was going to get some of her sweetness, but to bad for him. Things took a turn for the better. Once he found himself blinded. A pair of lips clamped down on his cock., but they were Tony's thick lips doing the sucking. Boy oh boy! Was Alexander mad when the blind-fold came off. That anger didn't last very long when money was thrown in his face. All of that went out the window and sure enough we got ourselves another victim. Stay tuned!
Format:
mp4
Resolution:
1280x720
Runtime:
61 min.
Filesize:
1,33 Gb
ORON
http://oron.com/poq0df6fkgsp/SG-082.part1.rar
http://oron.com/4sj8j9zc7kys/SG-082.part2.rar
http://oron.com/ydoo27qlryau/SG-082.part3.rar