Short Information:
Slave Kas is/was a real life slave. She had an own website many years ago but it is closed since years. She made several movies with her master and sold them through her website. Because she is/was a slave in real life too, her movies feel very real and absolutely not staged like in many other professional movies.
Movie 1: Slavekas in "Black Cock Slave 1"
Great interracial movie with good submission and humiliation.
Cover:
Preview: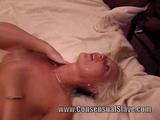 Duration: 1 hour 20 minutes
Size: 624 MB
Format: wmv
Download:
Part1:
http://uploaded.to/file/w8eau7v4
Part2:
http://uploaded.to/file/8ewmmx1v
Part3:
http://uploaded.to/file/nsfdyu7k
Mirror:
Part1:
http://www.share-online.biz/dl/50ABWAYLCZ
Part2:
http://www.share-online.biz/dl/MJ4BWAYLUS0
Part3:
http://www.share-online.biz/dl/C84BWAYLSI