L.A. RAW DT-776-02 Christina Goldie
Run Time 23
Size 194 MB
Resolution 480 x 360 px
Christina Carter and Goldie Blair start off in the ring wearing teeny bikinis which will definitely not survive this California confrontation. Christina is taller, but Goldie may be
quicker. In fact, after a devastating display of scissors, leg holds and body bruising throws, it is the bigger Christina who capitulates to end the first fall. Goldie relishes her
victory, but Christina is determined to even the score. The second fall is a whirlwind of twisted limbs and crushed flesh. When Christina uses her ample body to pin Goldie,
the big-breasted Brit resorts to stripping off Christina's bikini, hoping to humiliate her now-nude adversary. Not a chance. Christina is no stranger to nudity and simply levels
the playing field by ripping off Goldie's red bikini, leaving both bountiful battlers to continue this fearsome fight in nothing but skin. This rollicking raw riot just gets hotter and
hotter until a decisive outcome is reached and one naked babe lies beaten while the other bounces in victory.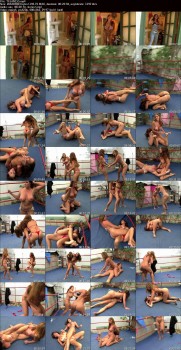 http://rapidgator.net/file/70926138/TCJAN155.mp4.html
http://luckyshare.net/7812117146