Slam It! In A Young Whore, Scene 2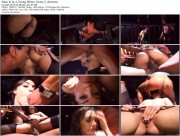 Starring:
Sasha Grey
Categories:
Brunette, Cumshots, Cunnilingus, Facials, Fetish, Gonzo, Hairy, MMF, Oral, Small Tits, Straight Sex, Threesome
I am sure it has been said before but Ms. Grey has the perfect ass (for her body-type; one could argue that the previous scene has the perfect ass, too). Nice little bubble (check the cover; and it looks pretty firm). Nice little bush. I never get tired of her, even if she is a little over the top. Positives far outweigh the negatives with this woman. There is a relatively short list of these ladies that I would rate higher, overall, than Sasha.
Format: wmv
Resolution: 720x480
Runtime: 26 min.
Filesize: 545 Mb
FS
http://www.filesonic.com/file/339155..._dvd.part1.rar
http://www.filesonic.com/file/339158..._dvd.part2.rar